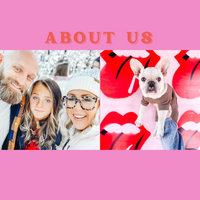 ABOUT US!
I am a wife, mom, and bulldog mom of 4 and love all things pink! I'm just a girl with a dream of opening a clothing boutique. As a young college student I wanted to go to major in fashion design, but I didn't believe in myself enough to take the leap. As cliche as it sounds , I've always had a passion for fashion. I wanted to share my style with others and help women feel confident and beautiful through their clothes!
Four years ago, with the nudge of my husband I started my clothing boutique journey in my home. I quit my job in insurance sales, and went all in with my in-home boutique business! I grew my customer base locally in person and online. I was a one woman show, with the help of my daughter and husband helping me unpack inventory, shipping product, and assist in live sales. 
In 2020 our family had a tragic house fire and I lost my entire business overnight. I was devastated and wasn't sure how I would mentally be able to pick myself up and rebuild my business that I worked three years to create. At that moment I decided to follow my dream and rebuild my business by opening a brick and mortar location! 
God led me in the direction of our current PBB location. That exact location is extremely significant in my boutique journey! When I first started my at home boutique, this location was a wine bar, and I would do a pop up shop with my clothing once a month. To think that my business has come full circle goes to show that every single step you take is to lead you to your next. I absolutely love the friendships this business has allowed me to build! Our customers are like family to us and we love our PBB family!